Please log in to use this receiver: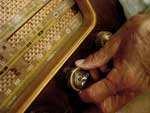 Operator: alcot
Location: Aosta, AO, Italy
Receiver: Icom PCR-1500
Antenna: Dressler ARA-60
Time zone: UTC+1
July 8, 2017: The Icom PCR 1500 is back online after being checked, with new antenna cabling, connected to a Dressler ARA-60 active antenna.

May 22, 2017: a temporary SDR receiver has been installed. Still waiting for the Icom PCR-2500 to be returned from repair (it may be Sept. 2017 or earlier if we are lucky)

April 23, 2017: The receiver is off line for repair. Please come back soon.

Oct. 25, 2015 : The Dressler ARA-60 failed and has been disconnected. We are now using a 15 m long wire antenna.

Nov 28, 2011 : The long wire antenna for HF reception has been replaced today with a Dressler ARA-60 active antenna. At first impression, most HF signals seem to be a bit overloaded. We'll be monitoring and re-tune the pre-amplifier or switch back the long wire as needed next time we are in the area, tentatively at the end of December. Stay tuned!

-------------------

This monitoring station is located south of the Alps, in the NW of Italy on the border with Switzerland and France at 1,800 meters above sea level. At this isolated location we are very much far away any human generated noise, and we expect a very quite, low noise environment (except for some quite necessary computer generated noise :-( )
We use cookies to personalise content and ads, to provide social media features and to analyse our traffic. We also share information about your use of our site with our social media, advertising and analytics partners who may combine it with other information you've provided to them or they've collected from your use of their services.
See details
.
Hide this message
.