Please log in to use this receiver: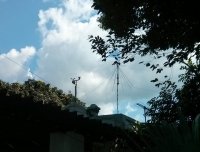 Operator: VR2HF
Location: Tai Po, NT, Hong Kong
Receiver: Yaesu FT-817
Antenna: Diamond Discone (25-1300mHz) w/ broad-band dipole for MW/HF
Time zone: +8UTC
*** PLEASE LIMIT YOUR CONTROLLING USE OF THIS RECEIVER TO ABOUT ONE (1) HOUR PER DAY MAXIMUM ***. You are welcome to listen an UNLIMITED amount of time if others are doing the tuning. The Hong Kong node is in the top five nodes on Global Tuners in terms of daily usage. Often it is #2 (following London West) or #3. Frequently, I see the same people using the receiver on the same frequencies for 2-3 hours or more, sometimes listening to nothing but noise. This is unacceptable and a waste of this resource because others who want to use the receiver may not bother to try if they see it is already in use.THANKS FOR YOUR UNDERSTANDING AND COOPERATION!
RX FREQUENCY COVERAGE of the Hong Kong node: 100 kHz - 56 mHz; 76 - 154 mHz; 420 - 470 mHz.
MY LOCAL WEATHER:
www.MrDan.org
We use cookies to personalise content and ads, to provide social media features and to analyse our traffic. We also share information about your use of our site with our social media, advertising and analytics partners who may combine it with other information you've provided to them or they've collected from your use of their services.
See details
.
Hide this message
.