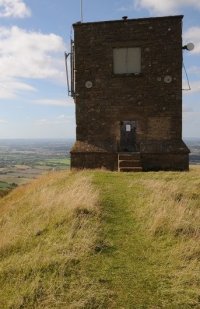 Operator: Dan
Location: Evesham, Worcestershire, United Kingdom
Receiver: SDRPlay RSP (ExtIO)
Antenna: VHF Dipole @ 160ft AGL
Time zone: GMT
Welcome to my SDRPlay RSP1 (Original). This receiver is located just south of the town of Evesham in Worcestershire UK. It is perched on the south side of Bredon Hill which is a large hill in between the Cotswold Hills and the Malvern Hills. This hill is registered as a SOTA (Summits on the air) location which demonstrates its advantages for VHF/UHF Radio. The antennas are situated between 160ft and 175ft above ground level giving the SDR a clear advantage to the north, east and south. West side specifically south west is shielded by the summit of the hill so we do sometimes struggle for signals into the Devon/Cornwall and South Wales areas.
Due to restrictions in the GT driver, I recommend always using AGC and NB options whilst in use, this will get the most out of the RSP
Please log any frequencies received in the user log. I will try and get the antenna switch working on the GT interface soon. Finally please note I may take the node down at times for personal use 😊

Current setup is a Vertical Dipole @ 165ft AGL.
Thanks
Dan
M0MST

14/3/21 - Some changes made to SDRPlays EXTIO driver. Raised Setpoint and changed to LowIF, some changes should be seen with better weak signal reception.