Please log in to use this receiver: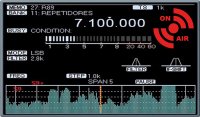 Operator: SV2CZF
Location: KN00QU Polyplatano, Florina West Macedonia , Greece
Receiver: Icom PCR-1500
Antenna: AM - HF 85 meters wire dipole off center fed with 9:1 balun transformer at 15 meters over ground - Antenna VHF - UHF ...... Soon
Time zone: +3 Athen
Pleas ask for permission to tune
If there is no response from the other user, and no activity indicating that the other user is still using the receiver, you are allowed to take over control after waiting at least 2 minutes after asking permission to do so.

Please pay attention to the chat and answer if someone speaks to you
We use cookies to personalise content and ads, to provide social media features and to analyse our traffic. We also share information about your use of our site with our social media, advertising and analytics partners who may combine it with other information you've provided to them or they've collected from your use of their services.
See details
.
Hide this message
.