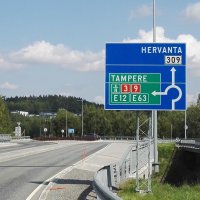 Operator: finndx
Location: Tampere, Pirkanmaa, Finland
Receiver: Technics ST-GT630
Antenna: 8 el. yagi pointing SE
Time zone: UTC+3h
Antenna 4 meters above the ground level (H pol usually pointed to SW ... S). WLAN connection may cause dropping audio occationally.
Added AM possibility. Simple Outdoor antenna (HF dipole).

CONTROL PC IS FINALLY REPLACED AFTER AUGUST 2016 POWER SUPPLY FAILURE. Changing power supply wasn't just enough - old PC had some other issues as well. I tried to keep this node online with a temporary setup with old laptop PC but it failed too in the end of 2018. NOW REPLACED WITH ANOTHER DESKTOP PC! Still testing, so more offline than online...