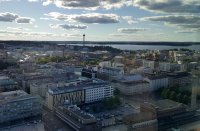 Operator: finndx
Location: Tampere, , Finland
Receiver: SONY XDR-F1HD
Antenna: Horizontal Triax FM8S
Time zone: UTC+2/3
FMDX node testing - this receiver is for private use only. If you still happened to tune ... when leaving take care the frequency remains the same it was! Receiver has continous recording and changed frequency may ruin these recordings. Thanks for your attention.