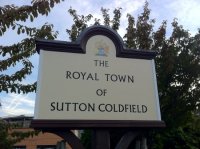 Operator: Tango5
Location: Sutton Coldfield, West Midlands, United Kingdom
Receiver: RTL2832 SDR (new decoder)
Antenna: Diamond D-130M discone in loft (25-1300MHz)
Time zone: UTC
From the Royal Town of Sutton Coldfield on the northern edge of the city of Birmingham in the UK. Line of sight reception of Birmingham Airport; and ATC transmissions from Clee Hill and Daventry. (VHF/UHF only. See 'Receiver Bandguides' for frequencies.)
Note that there can be a lag of upto 30 seconds between tuning to a new frequency, or changing any setting, and the SDR responding.