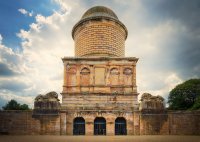 Operator: mm3vee
Location: Hamilton, South Lanarkshire, United Kingdom
Receiver: SDRPlay RSP (API v3)
Antenna: ICOM AH-8000 VHF/UHF
Time zone: GMT
Back Online with new antenna ICOM AH-8000.
Antenna 2 currently disconnected! VHF/UHF ONLY
New YouLoop antenna is on order and is coming very soon for HF

Hamilton Scotland Dx!

We are back with our SdrPlay RSP-DUO.
We are testing/trying different configurations to try and get the best performance possible. Please bear with us.

Located at the top of a hill in Hamilton.
We are in the perfect location for both VHF/UHF/HF reception
we are using a Sdrplay RspDUO with Dual antennas a ICOM AH-800 Antenna for VHF/UHF
Sorry No HF YouLoop antenna coming soon!

Antenna One Only Antenna 2 is Disconnected!

To change antennas use the antenna switch Above when its green this means you are on antenna 2 for 11/10 HF when it's of this is you on the VHF/UHF vertical.

For AM airband enable AGC and NB with the gain around 50/85% or auto
for WFM broadcast stations set the gain around 2/10%

Please be aware that this is a multi-user system so other members/users could be listening/tuning the receiver.
So please ask for permission to tune If there is no response from the other user and no activity indicating that the other user is still using the receiver. You are allowed to take over control after waiting at least 2 minutes after asking permission to do so.
Please pay attention to the chat and answer if someone speaks to you.