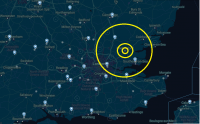 This will only be on every now and then as if I can't stick my laptop out on the cieling I don't pick up anything interesting. If it's offline come back soon. Enjoy!

Location: Essex - Main ATC reception in South/East London TMA frequencies mainly consisting of Heathrow Gatwick and Stansted inbounds and Outbounds.

Most active/clear channels marked with an *

Feel free to log if you hear something new!