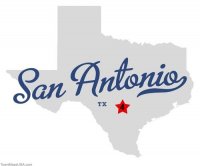 Operator: ted707
Location: San Antonio, Texas, United States of America
Receiver: Icom PCR-1500
Antenna: MP Antenna Super-M Classic Base 25MHz-1300MHz @ 60'
Time zone: Central
PCR1500 located in EL09sp,2.7m N of Loop 1604 off Hwy 281
Photo looking 182° to San Antonio city center, 15 miles.


Please leave AGC and NB on when you are finished. Thanks!


Note: this receiver works best above 25MHz.

For best radio performance:
Shortwave AM operation, use 6kc filter, AM
USB, LSB, or CW operation, use 3 kc filter
Broadcast FM listening, use WFM, 230 kc filter
Broadcast FM DX, try NFM, 50 kc filter to reduce adjacent channel noise.