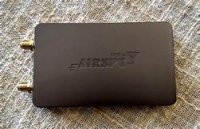 Operator: nycradio
Location: Queens, New York, United States of America
Receiver: SONY XDR-F1HD
Antenna: Craft FM Antenna on Roof 87-108 MHz & W6LVP Amplified Mag Loop on Roof
Time zone: UTC - 5
Welcome to my Sony XDR-F1 HD Radio Receiver

To all users: This IS a SHARED receiver! Be courteous and observe the 2 minute rule.

Update 4/22/17 Added W6LVP Amplified Mag AM Loop Antenna on Roof.



Use the "Modern" interface and 100KHz or 200KHz tuning steps. Better yet use direct-access. If stepping, move up or down one step at a time, wait for audio, then step again. Tuning around HD stations gets wonky if XDR can't get an HD lock. If you get lost just direct-tune to a nearby analog station to "recalibrate" and go from there.

UNREAL PLAYER HERE BELOW FOR FAST AUDIO STREAMING!
Use the Unreal Player below to listen to better audio with slight radio delay. Be sure to stop the default audio first by pressing # at Audio Player.