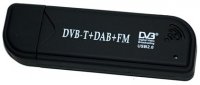 Operator: Ivo
Location: Breda, Noord-Brabant, Netherlands
Receiver: RTL2832 SDR (new decoder)
Antenna: Diamond D-130NJ and 20-meter inverted V
Time zone: GMT+1/+2
Experimental setup with a RTL2832 SDR receiver with R820T tuner chip. This receiver automatically switches between direct sampling mode and IQ sampling mode for wide frequency coverage.

----

The RSPdx receiver provides a very broad spectrum coverage from 1kHz to 2GHz combined with a built-in antenna switch.

The Antenna switch can be used to switch between the Diamond D-130NJ discone antenna on port 1 (25-1300MHz) and the inverted V on port 2 (around 14MHz, but works on some other HF bands as well).