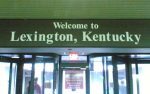 Operator: ku4a
Location: Lexington, KY, United States of America
Receiver: Icom PCR-1500
Antenna: (see the receiver information section)
Time zone: EST
This receiver tunes from 10 KHz to 3.3 GHz.

The receiver is located in Maidenhead grid square EM78sb, 38.06 degrees north latitude, 84.45 degrees west longitude.

Premium membership is not required to use this receiver, and monetary contributions are not accepted. I am able to cover the receiver's expenses, and am glad to be able to provide this equipment for the radio monitoring community free of charge.

Keep in mind that the audio feed is delayed by a few seconds.

The receiver is located at the site of a busy amateur radio station. The amateur transmitters may bleed over into the receiver. If you are listening in the ham bands, near where I am operating, I may change the frequency of the receiver so as to not overload its front end with my transmissions.

The antenna in use can be any of the following:
(1) MFJ-1886 amplified loop at 20 feet
(2) 144-foot loop-on-ground (36 feet square)
(3) 125-foot horizontal loop at 10 feet
(4) In case of storms: Slinky dipole in attic, resonant at 2.4 MHz.

I try to control external noise sources (power inverters, etc) as much as possible, but sometimes noise is unavoidable.

There is no time limit on your visit, stay as long as you like. But please always be courteous to your fellow radio hobbyists.