Please log in to use this receiver: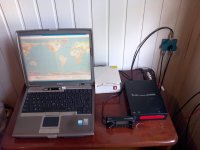 Operator: stanger
Location: Vilhena, Rondonia, Brazil
Receiver: Icom PCR-1500
Antenna: Diamond Discone Super Wideband
Time zone: -4 UTC
Hello everyone!!

This station is operated remotely and is located in the city of Vilhena - Rondonia, the north of Brazil. I live in Goiania - Goias medium west of the country.

You will be tuning into a ICOM PCR-1500 receiver connected to a HP Desktop, just the picture you see here. The antenna is a Discone SuperWideband Diamond, covering 1 to 1300 MHz.

If you find interference from AM local radio, please turn on the ATT buton. Try my other receiver in Brazil too!!

Every day at 0700 UTC this computer is restarted automatically (about 5 minutes to go back).

For me is a pleasure to provide this receiver for your listening. Enjoy!!

Evandro Stanger
evandrostanger (a) yahoo.com.br
PY5034SWL
We use cookies to personalise content and ads, to provide social media features and to analyse our traffic. We also share information about your use of our site with our social media, advertising and analytics partners who may combine it with other information you've provided to them or they've collected from your use of their services.
See details
.
Hide this message
.