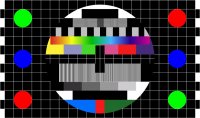 This tuner is connected after several splitters and a 25db VHF/UHF distribution amplifier.

This tuner ONLY TUNES ~40MHZ-2GHZ. NO AM OR HF.

The antenna is an old VHF/UHF combo unit about 16'x12'. It is on a rotatable mast, so may be pointing in any direction at any time. The antenna is about 30' AGL, but does have tall buildings throughout most of it's azimuth.

I am located in West Sumpter, MI near the Monroe/Washtenaw/Wayne county border.