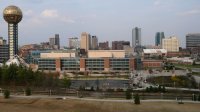 Operator: PhilP
Location: Knoxville, TN, United States of America
Receiver: Icom PCR-1000
Antenna: 45 foot terminated folded dipole up 30 feet
Time zone: CST
DO NOT turn off ATT!
This receiver is located in Knoxville, TN at the site of a MW AM station on 1490. The antenna is a terminated-folded dipole. There is a band-stop filter attenuating the entire AM broadcast band as well as a trap on 1490 kHz. You will find the reception in the AM band is very poor and the ATT will
need to be ON at all times to prevent receiver overload. Turning on the NB is only useful if you enjoy intermodulation distortion. This receiver is good for HF monitoring with some reception on VHF/UHF bands as well.