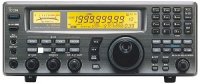 Operator: IK2CHZ
Location: Crema, [CR], Italy
Receiver: Icom IC-R8500
Antenna: 0-30 MHz Diamond WD330 T2FD 25 m. long, V/UHF Diamond D3000N. Both at 25 m. high
Time zone: GMT +1
According to Italian rules this receiver can tune frequencies of Public Broadcasting Service and Amateur Radio Service only.

In rispetto alle normative italiane questo ricevitore può sintonizzare solo frequenze adibite alla radiodiffusione pubblica e al servizio di radioamatore.